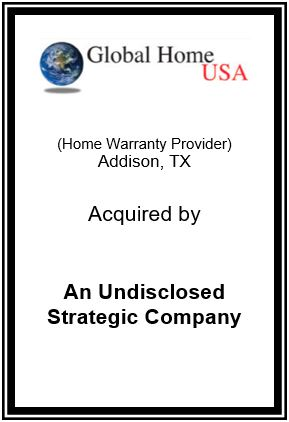 New York, NY – August 19th, 2016 – Aleutian Capital Group, a New York based middle market investment bank, announced that Warranty Global Group, Inc. ("WGG") has been acquired by an undisclosed strategic company. Aleutian Capital acted as the exclusive sell-side advisor to WGG, working closely with the owner during the sale process. The process included providing M&A advisory expertise, preparing marketing materials, contacting and coordinating with buyers, managing due diligence, and assisting in the final negotiation phases of the transaction.
Warranty Global provides home warranty solutions including the development, application and administration of home warranty among others. Client base consists primarily of real estate agents and loan officers in 45 states. Warranty Global has been a leader in providing home warranty solutions and has experienced continuous growth the last several years. The company is headquartered in Addison, Texas.
The buyer is a larger strategic company that provides finance and insurance solutions and reinsurance services.