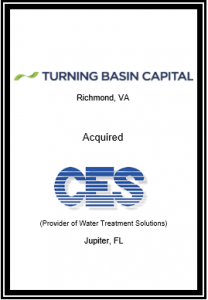 New York, NY – April 20th, 2021 – Aleutian Capital Group ("Aleutian Capital"), a New York-based middle-market investment bank, is pleased to announce the successful acquisition of Commercial Energy Specialists, Inc. by Turning Basin Capital Partners. Aleutian originated the opportunity. Terms of the transaction were not publicly disclosed.
About Commercial Energy Specialist
Founded in 1983, CES is a leading provider of water treatment products, including filtration systems, treatment products, heater systems, and pumps. Their products are distributed to institutional and commercial swimming pools, spas, water parks, water features, and industrial process water clients. To learn more about CES, visit www.ceswaterquality.com.
About Turning Basin Capital
Turning Basin Capital Partners, a Richmond, VA-based private equity group, specializes in investing in companies that provide services and products to the critical infrastructure, energy, health and safety, and environmental protection and compliance market sectors. They provide capital and strategic support to help elevate their companies to the next level of success. For more information, please go to www.turningbasin.com.