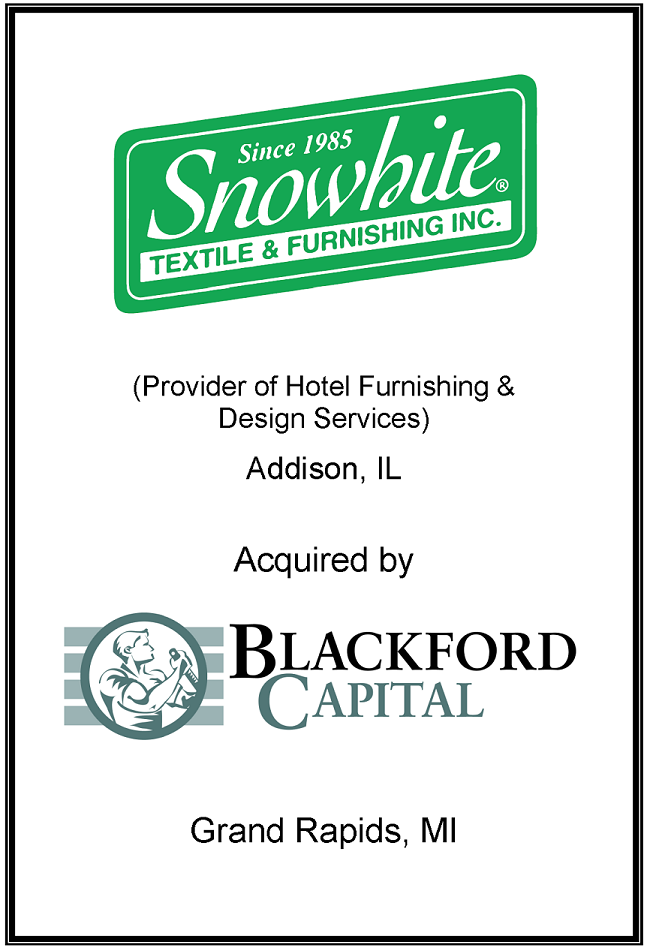 New York, NY – March 27th, 2017 – Aleutian Capital Group ("Aleutian Capital") is pleased to announce the successful acquisition of Snowhite Textile & Furnishing, Inc. ("Snowhite" or the "Company") by Blackford Capital. Aleutian Capital acted as the exclusive sell-side advisor to Snowhite, working closely with the shareholders and the management team during the sale process. The process included providing M&A advisory expertise, preparing marketing materials, contacting and coordinating with buyers, managing due diligence, and assisting in the final negotiation phases of the transaction.
About Snowhite Hospitality
Founded in 1985, Snowhite is a complete solutions provider to the hospitality industry, offering design, procurement, and project management for furniture, fixtures, and equipment ("FF&E"). Headquartered in Addison, Illinois, Snowhite has established itself as a trusted partner for brands such as La Quinta, Choice, Wyndham, and Hilton, among others. Snowhite distinguishes itself by offering in-house design services, high quality products, and superior customer service to hotel owners across multiple segments of the industry. To learn more, visit www.esnowhite.com.
About Blackford Capital
Blackford Capital is a private equity firm based in Grand Rapids, Michigan, that acquires, manages and builds family-owned, lower middle-market manufacturing, distribution and service companies. Blackford currently has 13 portfolio companies located across the United States and has been recognized as one of America's fastest growing private companies by Inc. 5000.