Further M&A Advisory Success for Aleutian Capital in the Middle-Market Manufacturing Industry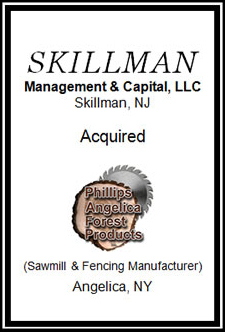 New York, NY – October 24th, 2012 – Aleutian Capital Group is pleased to announce the successful acquisition of Phillips Angelica Forest Products, Inc. by Skillman Management & Capital, LLC. Aleutian originated the opportunity and provided acquisition advisory services to Skillman. Terms of the transaction were not disclosed.
Founded in 2003, Phillips Angelica produces softwood boards from logs. The boards are primarily used in home fencing projects and commercial applications. After further processing by other companies, its products are typically sold through various Fortune 500 retailers. Secondary products include sawdust, chips and bark, which are sold to producers of animal bedding, paper, and garden mulch. Headquartered in Angelica, New York, Phillips Angelica buys soft wood from regional loggers.
Hamilton F. Potter III, Managing Member of Skillman Management & Capital, commented, "Aleutian Capital has brought us over two dozen acquisition and growth capital investing opportunities since I started working with them in 2008. I very much appreciate the quality of the companies that they have brought to our attention. I value the Aleutian team's professionalism and responsiveness during the process. Their efforts ultimately allowed our investment in this very fine company. I look forward to working with Aleutian in the future."
Skillman Management & Capital, LLC, founded in 2001, invests in healthcare, business services, and manufacturing companies. The firm is led by Hamilton F. Potter III, who has also been a significant shareholder and/or manager in companies in manufacturing, distribution, security, chemical, textile, real estate, technology, aviation, and financial management. Mr. Potter was the prior owner and CEO of Accordis, Inc., a medical accounts receivable management company with offices throughout the U.S.