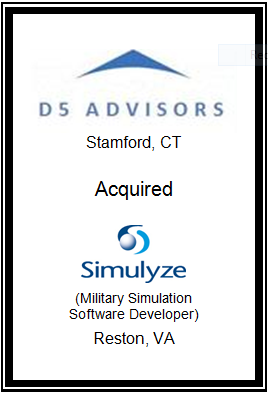 New York, NY – November 6th, 2012 – Aleutian Capital Group is pleased to announce its success in aiding the acquisition of Simulyze Incorporated, a military simulation software developer by D5 Advisors, a private global investment firm. Terms of the transaction were not disclosed.
Simulyze Incorporated develops and analyzes visualization and analytical software for military, commercial and municipal applications. The company's proprietary software is used by the U.S. military as a decision support tool for battlespace management, analysis and alerting. The company has 135 active accounts.
D5 Advisors is a hedge fund management firm specializing in low volatility, hedged trading strategies for qualified investors. The group conducts its investment activities through focused strategies which leverage the extensive operating, corporate and financial experience of its principals.
Aleutian Capital Group is an experienced boutique investment-banking firm, which provides advisory services to companies looking to sell or raise capital and executives wishing to execute a management buyout.