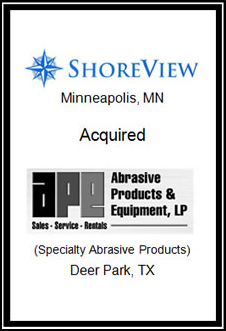 New York, NY – July 13th, 2010 – Aleutian Capital Group is pleased to announce ShoreView Industries' recent acquisition of Abrasive Products & Equipment, LP, despite the challenging merger deal environment.
ShoreView Industries has acquired Abrasive Products & Equipment (APE) of Deer Park, TX. ShoreView invests in established, middle-market companies with North American operations across a wide range of industries. ShoreView structures a variety of acquisition, recapitalization and build-up transactions, typically in businesses with revenues ranging between $20 million and $300 million. The partners at ShoreView have completed over 60 lower middle-market transactions during the past several years. For additional information, visit www.shoreviewindustries.com.
APE is a specialty distribution company that sells, services and rents portable air blast and related equipment to blast and painting contractors in the petro-chemical, marine, oil field service and industrial market segments in the Gulf Coast Region. APE is recognized as a leading distributor with a well established reputation for superior sales, service and rentals. For additional information, visit www.apeblastandpaint.com.
Aleutian Capital Group served as the buy-side advisor for ShoreView Industries.