Shore Capital has acquired Excel Rehabilitation Services and Michigan Rehabilitation Specialists, both leading providers of outpatient physical therapy throughout Michigan. The transactions create a combined network of 21 physical therapy clinics.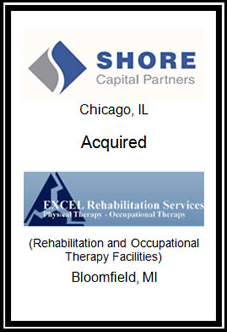 New York, NY – May 5th, 2012 – Aleutian Capital Group is pleased to announce the successful acquisition of Excel Rehabilitation Services ("Excel") and Michigan Rehabilitation Specialists ("MRS") by Shore Capital Partners. Aleutian originated these proprietary opportunities and provided acquisition advisory services to Shore. Terms of the transaction were not disclosed.
Excel was founded in 1994 to provide physical and occupational therapy in Southeast Michigan for orthopedic injuries, work related injuries, sports injuries and various neurological and neuromuscular conditions. Excel was founded by brothers Roger and Ronald Goble in addition to Laura Ruppenthal. MRS was founded by Rodney Goble in 1999 to provide physical therapy and athletic training primarily in Livingston and Washtenaw counties, but has since opened locations in Genesee, Clinton, Oakland and Wayne counties. The companies are both Medicare and Blue Cross Blue Shield (BCBS) certified.
Shore Capital Partners is a healthcare-focused lower middle market private equity firm that specializes in partnering with companies that have between $5 and $50 million of revenue. Shore is focused on making control equity investments within the healthcare services, products and distribution markets. Utilizing a proactive, research-led investment process, our approach is to support entrepreneurs with capital, business development expertise, and industry knowledge. Shore targets investments in proven, successful private companies with superior management teams, stable cash flow, and significant growth potential, including organic and growth through industry consolidation.