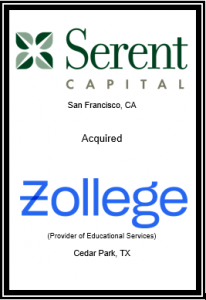 New York, NY – May 11th, 2021 – Aleutian Capital Group ("Aleutian Capital"), a New York-based middle-market investment bank, is pleased to announce the successful acquisition of Zollege Public Benefit Corporation by Serent Capital. Aleutian originated the opportunity. Terms of the transaction were not publicly disclosed.
About Zollege
Zollege provides career-focused, skills-based training to enable students to access higher-quality jobs and achieve freedom through education. The company's high-quality, hybrid e-learning and in-person training provides transformational education that leads to employment and continuing education opportunities in career fields, including Dental and Medical Assisting. To learn more about Zollege, visit www.zollege.com.
About Serent
Serent Capital invests in growing businesses with compelling solutions that exceed customer needs. As businesses grow and evolve, the opportunities and challenges they face change with them. The principals at Serent Capital have firsthand experience navigating growth through their experiences as CEOs, strategic advisors, and board members to successful businesses. Serent leverages their expertise and capital to help growing businesses thrive. For more information on Serent Capital, visit www.serentcapital.com.