RevH2O, an oil and gas wastewater remediation company, has received a capital infusion from various investors. Transaction solidifies Aleutian's investment banking leadership in the oil & gas services sector.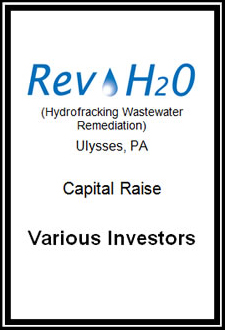 New York, NY – Marchth, 2012 – Aleutian Capital Group is pleased to announce a successful capital raise for RevH2O, where Aleutian served as sell-side advisor. The infusion of capital helps the company proceed with its plans to set up new wastewater remediation facilities. The transaction closed in March, 2012; terms of the transaction were not disclosed.
Headquartered in Ulysses, Pennsylvania, RevH2O provides advanced wastewater purification primarily to oil and gas E&P companies. The company specializes in remediating wastewater generated during the hydrofracking process for shale and tight oil deposits. Its energy-efficient and chemical-free mechanical water filtration systems treat frack water and flowback liquids, which can then be reused or returned to the local environment. Water remediation represents a more environmentally-conscious and lower-cost alternative to the typical method of hauling large volumes of wastewater to deep-injection disposal wells.
The additional capital will primarily be used for working capital to deploy water treatment units in Pennsylvania and North Dakota. A portion of the funding will also be used to acquire assets of an established water hauling company serving E&P drillers in Pennsylvania.