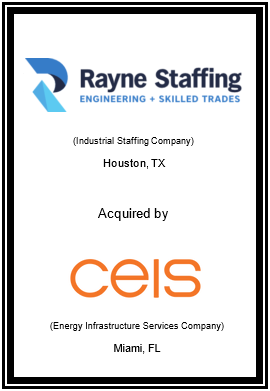 Aleutian Capital Group ("Aleutian") is pleased to announce the successful acquisition of Rayne Staffing, LLC ("Rayne") by Critical Energy Infrastructure Services, LLC ("CEIS"), a new platform company of private investment firm White Wolf Capital Group, Inc. ("White Wolf"). Principals of Aleutian acted as the exclusive advisors to Rayne throughout the entire transaction process. The process included providing M&A advisory expertise, marketing to strategic buyers, managing due diligence, assisting in the negotiation phases and closing the transaction.
About Rayne Staffing
Rayne is an engineering and skilled trades technical staffing agency that places critically necessary construction, engineering, skilled trades, and technical service professionals to clients in the energy, utility, construction, aerospace & defense, and several other related sectors. The company offers various professional services, including contract & contract to hire (staff augmentation), direct hire, and payroll & project services. For more information, please visit www.raynestaffing.com.
Phil Vanderslice, co-founder of Rayne, commented, "Aleutian's advisory and guidance was instrumental in our eventual sale to CEIS and White Wolf. Their industry expertise and dedication to understanding our business was critical in achieving both our strategic and personal goals. The Aleutian team helped us move decisively and efficiently through every step of our transaction and close with the right partner."
About Critical Energy Infrastructure Services
CEIS is a holding company that was formed by White Wolf to partner with and acquire U.S.-based mission-critical human capital solutions and services companies focused on the energy infrastructure sector. CEIS serves power generation customers, including utilities, nuclear facilities, and government agencies and is seeking acquisition targets with revenues of $10 million to $100 million. For more information, please visit www.ceis.com.
About White Wolf Capital Group
White Wolf is a Miami, Fl-based private investment firm that focuses on making direct and indirect investments in leading North American middle market companies and fund managers. On the direct side, White Wolf seeks private equity and private credit investment opportunities in companies with $20 million to $200 million in revenues and up to $20 million in EBITDA. Since their establishment in 2011, White Wolf has taken a partnership approach to investing by partnering with management teams to drive value through strategic business and operating initiatives. They also have additional offices in Montreal, Chicago, and New York City. For more information, please visit www.whitewolfcapital.com.
About Aleutian Capital Group
Aleutian is a New York, NY-based financial services advisory group serving sellers and buyers of companies throughout North and South America, Asia, and Europe. Aleutian has expertise in technology, e-commerce, healthcare, aerospace, consumer, transportation, professional services, and industrial manufacturing industries. Our banking practice, through our broker-dealer Bradley Woods & Co. Ltd. (Member FINRA/SIPC), provides services relating to advisory, capital raises, valuations, and recapitalizations. All securities are offered through Bradley Woods & Co. Ltd., member, FINRA and SIPC. Aleutian is a division of Bradley Woods & Co. Ltd., member, FINRA and SIPC. For more information, please visit www.aleutiancapital.com.