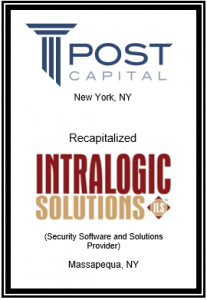 New York, NY – July 25th, 2019 – Aleutian Capital Group ("Aleutian Capital"), a New York-based middle-market investment bank, is pleased to announce the successful recapitalization of IntraLogic Solutions by Post Capital Partners. Aleutian originated the opportunity. Terms of the transaction were not publicly disclosed.
About Intralogic Solutions
IntraLogic Solutions, LLC provides cutting edge and user-friendly security solutions to businesses, municipalities, government agencies and school districts. The Company's fully integrated security solution ties together video surveillance, access control, intrusion detection, fire and burglar alarms, visitor authentication and management capabilities into a single common operating platform that is instantly shared between onsite personnel and first responders. IntraLogic Solutions is based in Massapequa, NY and has offices in Albany, NY and South Florida. To learn more about IntraLogic Solutions, visit www.ilsny.com.
About Post Capital Partners
Post Capital Partners is a private investment firm that makes both minority growth and control investments in businesses with repeat or recurring revenue models. Post Capital primarily employs an "Executive-First" deal sourcing and investment strategy in which it first identifies and partners with talented senior operating executives and then works proactively with those "Executive Partners" to identify investments. Post Capital pursues "Executive-First" platform searches, management buyouts and growth capital investments. Based in New York City, Post Capital invests a committed capital fund with top-tier institutional and sophisticated private investors. For more information, visit www.postcp.com.