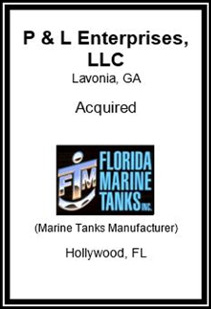 New York, NY – February 18th, 2015 – Aleutian Capital Group is pleased to announce the successful acquisition of Florida Marine Tanks, Inc. by P & L Enterprises, LLC. Aleutian originated the opportunity and provided acquisition advisory services to P & L. Terms of the transaction were not disclosed.
Founded in 1974, Florida Marine Tanks manufactures and distributes marine fuel, water, and holding tanks. The tanks are EPA and ABYC compliant and are made to customers' specifications. Approximately 98% of the manufactured products are sold to OEMs, with recreational and commercial boat builders accounting for the remaining 2%. Florida Marine Tanks has been a leader in providing marine fuel systems and has experienced continuous rapid growth the last several years. The company is headquartered in Hollywood, Florida.
P & L Enterprises, a Georgia-based investment group led by J. Pearson, mainly focuses on manufacturers in the lower middle market. J. Pearson was previously the founder and president of Carry-On Trailer Corporation, the largest manufacturer of light duty trailers in the U.S. with over 1,100 employees.