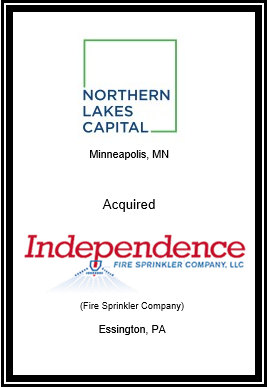 New York, NY – May 23rd, 2022 – Aleutian Capital Group ("Aleutian Capital"), a New York-based middle-market investment bank, is pleased to announce the successful acquisition of Independence Fire Sprinkler Company, LLC by Northern Lakes Capital, LLC. Aleutian originated the opportunity. Terms of the transaction were not publicly disclosed.
About Independence Fire Sprinkler Company
Founded in 2009, Independence Fire Sprinkler Company designs, fabricates, monitors, and installs fire protection water sprinklers and alarm system. Based in Essington, PA, Independence Fire Sprinkler Company is the trusted fire sprinkler services provider of Greater Philadelphia and South Jersey. To learn more about Independence Fire Sprinkler Company, visit www.indpfire.com.
About Northern Lakes Capital
Northern Lakes Capital, a Minneapolis, MN-based private equity group, has built an expertise in acquiring niche market leaders that display strong profit margins, consistent profitability, and the ability to generate high cash flow. Northern Lakes Capital adds value through its access and knowledge of local markets while maintaining the culture and legacy of businesses. For more information, please go to www.northernlakescapital.com.