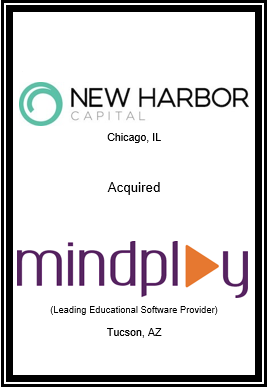 New York, NY – November 17th, 2021 – Aleutian Capital Group ("Aleutian Capital"), a New York-based middle-market investment bank, is pleased to announce the successful acquisition of MindPlay by New Harbor Capital Management LLC. Aleutian originated the opportunity. Terms of the transaction were not publicly disclosed.
About Methods & Solutions dba MindPlay
Founded in 1981, MindPlay provides standardized and special education software programs for students and teachers. Their solutions aim to help students in grades K-12 overcome deficiencies in reading, grammar, vocabulary, fluency, and overall comprehension. The Company currently serves more than 3,400 schools in over 40 states. To learn more about MindPlay, visit www.mindplay.com.
About Harbor Capital Management LLC
New Harbor Capital is a Chicago-based private equity firm focused on investing in lower middle market, growth-oriented healthcare, education, and business services companies. Its Partners have over 80 years of combined experience, partnering with strong management teams to systematically enable accelerated growth in value creation. Since 2000, the New Harbor team has completed over 230 investments. As an experienced strategic partner, New Harbor supports management with ideas, connections, and resources to capitalize on growth potential. For additional information, please visit www.newharborcap.com.