Further M&A Advisory Success for Aleutian Capital in the IT Solutions Industry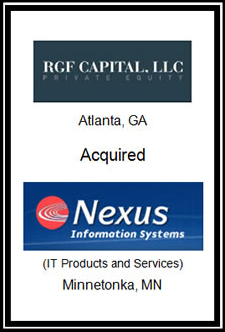 New York, NY – March 1st, 2012 – Aleutian Capital Group is pleased to announce the successful acquisition of First Byte Computers, Inc. d.b.a. Nexus Information Systems (Nexus) by Stratos Management Systems, a subsidiary of Navigation Capital Partners and RGF Capital. Aleutian originated the opportunity for RGF and Navigation Capital. Terms of the transaction were not disclosed.
Founded in 1987, Nexus is a redistributor of IT hardware and provider of IT services in Minnesota. Based in Minnetonka, MN, Nexus specializes in providing solutions and services for enterprise data centers to municipalities, manufacturers, professional services companies, IT providers, and the education industry in Minnesota, Michigan, and Florida. The Company also provides professional and technical services for its clients. Nexus was formerly known as EDTECH until 2001.
Ron Farrell, Chairman and CEO of RGF Capital, commented, "Working on this transaction with Aleutian Capital was a pleasure. Aleutian has shown me approximately 30 opportunities throughout our business relationship. I look forward to continuing to work with Aleutian in the future."
RGF Capital is a private equity and advisory firm based in Atlanta, Georgia. The Company has invested in businesses in the agriculture, automotive, and technology industries. RGF is managed by Ron Farrell, an investor with more than 35 years of experience in venture capital, private equity, financing, business consulting, and IPOs. He has led the acquisitions of more than 25 companies and five public offerings. Mr. Farrell also serves as a consultant for Navigation Capital Partners and as the CEO of Stratos Management Systems, Inc., the parent company of Nexus.
Navigation Capital Partners is a lower middle market private equity firm based in Atlanta, Georgia founded in 2006. The firm has holdings in transportation and logistics, financial, marketing, and information technology companies. The Nexus transaction was the first acquisition of Navigation's IT solutions platform, Stratos Management Systems, Inc.