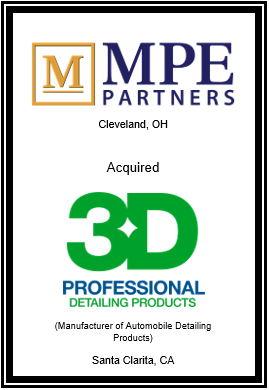 New York, NY – July 1st, 2022 – Aleutian Capital Group ("Aleutian Capital"), a New York-based middle-market investment bank, is pleased to announce the successful acquisition of 3D International by MPE Partners. Aleutian Capital originated the opportunity. Terms of the transaction were not publicly disclosed.
About 3D International, LLC
Headquartered in Santa Clarita, CA, 3D is a leading manufacturer of car care and detailing products. 3D's comprehensive line of innovative and high-quality compounds, polishes, ceramic coatings, cleaning supplies, and accessories serves customers across the United States and over fifty countries worldwide. For more information, please visit www.3Dproducts.com.
About MPE Partners
MPE Partners ("MPE" or "Morgenthaler Private Equity") seeks to be the preferred partner for entrepreneur- and family-owned companies. Based in Cleveland, OH, and Boston, MA, MPE invests in profitable, lower middle market companies with transaction values up to $250 million. MPE has two primary target investment areas: high-value manufacturing and commercial & industrial services. For more information, please visit www.mpepartners.com.