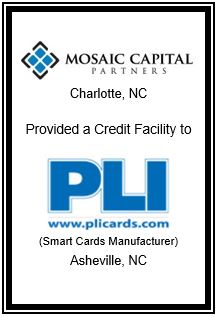 New York, NY – November 2nd, 2016 – Aleutian Capital Group is pleased to announce a successful debt investment by Mosaic Capital Partners, LLC into Plasticard Locktech International ("PLI"). Aleutian originated the opportunity and provided advisory services on the transaction.
Founded in 1988, PLI is the world's largest hotel keycard, gift and loyalty card manufacturer. Customers include companies in the hospitality, gaming, gift, and entertainment industries. PLI has been a leader in providing high quality smart cards and has experienced continuous growth throughout the last several years both organically and via acquisitions. The company is headquartered in Asheville, North Carolina.
Mosaic Capital Partners, LLC, a North Carolina-based investment group, provides mezzanine debt and equity to lower middle market companies. Mosaic employs traditional private equity buyout strategies along with their unique expertise in Employee Stock Ownership Plans ("ESOPs") to help business owners achieve their liquidity, wealth transfer and ownership transition goals.