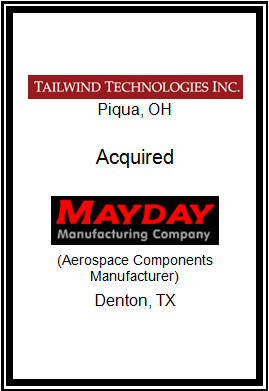 New York, NY – June 1st, 2009 – Aleutian Capital Group is pleased to announce the successful acquisition of Mayday Manufacturing Company, manufacturer of components and subassemblies for the aerospace industry by Tailwind Technologies Inc., an aerospace holding company. Terms of the transaction were not disclosed.
Tailwind Technologies Inc. is a corporation that facilitates growth and leverages certain core competencies through acquisition of additional operating companies. These companies are held as subsidiaries and operate as stand-alone businesses. The consolidated group of operating companies has sales in excess of $150 million.
In its production over 130,000 different part numbers for nearly all major OEM design groups, Mayday serves a global customer base. Mayday is a global supplier of precision bushings, sleeves, pin, and spacers to the aerospace, defense, and homeland security markets.
Aleutian Capital Group is an experienced boutique investment-banking firm, which provides advisory services to companies looking to sell or raise capital and executives wishing to execute a management buyout.