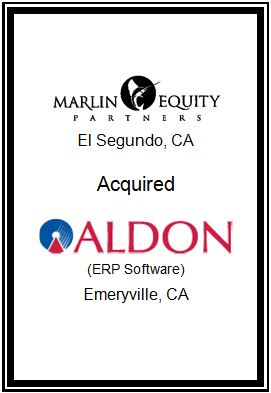 New York, NY – May 1st, 2007 – Aleutian Capital Group is pleased to announce the successful acquisition of Aldon Computer Group, an enterprise resource planning software provider by Marlin Equity Partners, a global investment firm. Terms of the transaction were not disclosed.
Marlin Equity Partners is a global investment firm with over $2.6 billion of capital under management. The firm is focused on providing corporate parents, shareholders and other stakeholders with tailored solutions that meet their business and liquidity needs. Marlin has successfully acquired and managed businesses with revenues in excess of $3 billion.
Aldon Computer Group works with Developing ERP software for mid- to large-sized Fortune 1000 companies primarily in the banking and healthcare industries. Product suite manages software development and systems administration processes.
Aleutian Capital Group is an experienced boutique investment-banking firm, which provides a full range of acquisition services including company search, valuation assessment, acquisition process assistance, and due diligence planning and implementation.