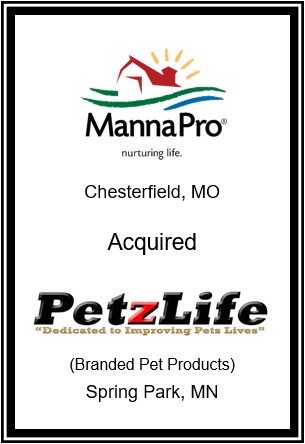 New York, NY – October 24th, 2017 – Aleutian Capital Group ("Aleutian Capital") is pleased to announce the successful acquisition of PetzLife Products, Inc. by Manna Pro Products, LLC. Aleutian originated the opportunity. Terms of the transaction were not publicly disclosed.
About PetzLife Products, Inc.
PetzLife Products, Inc. provides branded pet care products including oral care products, shampoos & conditioners and other hygiene products through distributors, its website, retail locations, and wholesale. PetzLife's customer base includes consumers and veterinarians. The company is headquartered in Spring Park, Minnesota.
About Manna Pro Products, LLC
Manna Pro Products, LLC is a Missouri-based manufacturer of high-quality animal nutrition and care products for a broad range of animals. Its largest group of products is associated with horses, but the company also produces feed for backyard poultry and goats, rabbits, cattle, pigs and companion animals. Manna Pro's product lines primarily serve the "lifestyle farmer" market – people who own acreage with farm animals, and operate their farms as a hobby rather than a business.