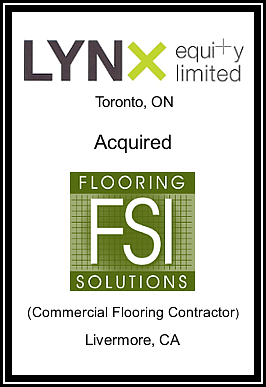 New York, NY – May 3rd, 2018 – Aleutian Capital Group ("Aleutian Capital"), a New York-based middle-market investment bank, is pleased to announce the successful acquisition of Flooring Solutions, Inc. by Lynx Equity Limited. Aleutian originated the opportunity. Terms of the transaction were not publicly disclosed.
About Flooring Solutions, Inc.
Founded in 1990, Flooring Solutions, Inc. is a Livermore, CA based flooring contractor and distributor. The company represents leading manufacturers in the commercial flooring industry, and uses certified installers to complete flooring installations.
About Lynx Equity Limited
Lynx Equity Limited, founded in 2007, is a private equity firm that typically acquires or partners with small to medium sized enterprises. The firm targets opportunities in the United States and Western Canada, in the manufacturing, business services, industrial products, and consumer products sectors, among others.