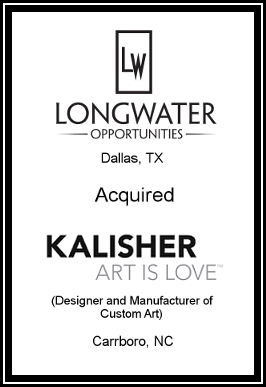 New York, NY – April 18th, 2018 – Aleutian Capital Group ("Aleutian Capital") is pleased to announce the successful acquisition of The Jesse Kalisher Gallery, Inc. by LongWater Opportunities LLC. Terms of the transaction were not publicly disclosed.
About The Jesse Kalisher Gallery, Inc.
Founded in 2004, The Jesse Kalisher Gallery designs and manufactures custom art for the hospitality and
healthcare sectors. Products include wallcoverings, digital art, and paintings. Jesse Kalisher Gallery's client base include Fortune 500 companies. The company is headquartered in Carrboro, NC.
About LongWater Opportunities LLC
LongWater Opportunities LLC, a Dallas, TX-based private equity group, specializes in the lower middle market and focuses on investing in the manufacturing sector across the United States.