Online Retailer of Security Products Sold to Nortek, Inc. Transaction Solidifies Aleutian's Investment Banking Leadership in the E-Commerce Industry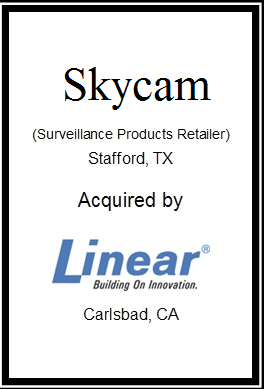 New York, NY – July 20th, 2010 – Aleutian Capital Group is pleased to announce the successful sale of Skycam, LLC to Linear LLC. Aleutian served as the exclusive sell-side advisor to Skycam. Terms of the transaction were not disclosed.
Skycam, headquartered in Stafford, Texas, is a fast-growing online distributor of company-branded surveillance products. The company sells security cameras, digital video recorders, power supplies and related accessories to businesses, home owners, government agencies and Fortune 500 companies throughout North America. Skycam's products include several trademarked families such as Rhino vandal proof cameras, Chameleon hidden cameras, NightOwl infrared cameras and others. The owner of Skycam commented, "Aleutian Capital Group greatly exceeded my expectations. They prepared Skycam for sale through highly professional presentation materials, served as a valued advisor to me, attracted multiple interested parties, and efficiently facilitated a sale at a price far higher than what I was contemplating before I hired them."
Linear LLC, based in Carlsbad, California, designs and manufacturers alarm monitoring components for global residential and commercial security markets. The company sells over 1,500 products including wireless residential security systems, intercoms, personal emergency reporting systems, access controls, and other items. Linear is a division of Nortek, Inc., a publicly-traded $1.8 billion diversified building products company.
Aleutian Capital Group, represented Skycam in the transaction and acted as its exclusive financial advisor. "We are very pleased with our engagement with Skycam," said O. James Sterling, Aleutian's managing director. "We were able to generate strong interest in the business despite continued uncertainty in the global economic environment. Linear is an outstanding buyer for Skycam and the two businesses are highly complementary. We were able to show Linear and the other interested parties the value and continued growth potential of Skycam and how it can help drive expansion of their core businesses. The result was a highly successful sale transaction for Skycam's owner."