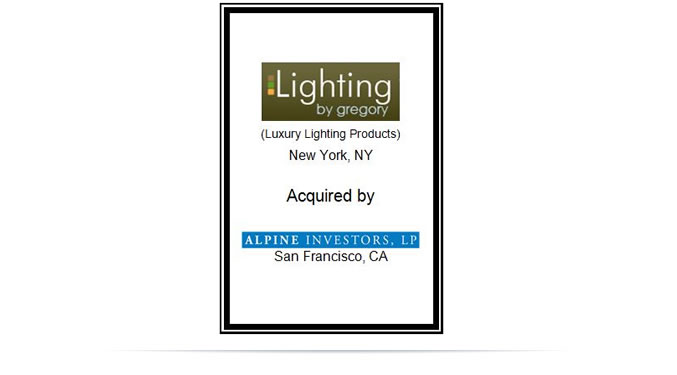 New York, March 5th 2008 – Lighting By Gregory, Inc. a privately held online and brick-and-mortar retailer of luxury lighting products was sold to Alpine Investors, LP, a private equity fund based in San Francisco. Aleutian Capital Group was retained by the seller to lead the negotiations and to act as the financial advisor to Lighting By Gregory. Terms of the transaction were not disclosed.
About Lighting By Gregory
Lighting By Gregory, Inc. sells brand-name luxury lighting products and accessories through its website and showroom. Its contemporary, rustic and traditional lighting units and ceiling fans are sold to contractors, restaurants, galleries, stores and individual homeowners. Lighting By Gregory is headquartered in New York, NY
About Alpine
Alpine Investors, LP is a private equity fund with an objective to invest or acquire small mid-sized U.S. based companies with EBITDA greater than $5 million. With $247 million under management, the firm's capital may be used to provide full or partial liquidity to entrepreneurs, family members, estates, passive investors or corporate owners. Alpine is headquartered in San Francisco, CA.
About Aleutian Capital Group
Aleutian Capital Group is a leveraged buyout and investment banking firm that provides sell-side advisory, valuation, mergers and acquisitions services to owners of middle market companies interested in selling. Aleutian is headquartered in New York, NY.