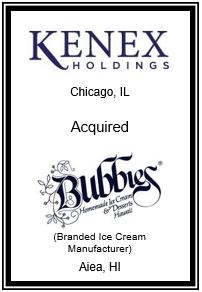 New York, NY – December 30th, 2016 – Aleutian Capital Group is pleased to announce the successful acquisition of Bubbies Homemade Ice Cream & Desserts, Inc. by Kenex Holdings LLC.
Bubbies manufactures and distributes branded ice cream products. Customers include retailers and restaurant groups in North America, South America, Europe, and the Middle East. The company is headquartered in Aiea, Hawaii.
Kenex Holdings LLC, a Chicago-based investment holding company, mainly invests in middle market private and family-owned businesses. They have extensive experience in the professional services, food & beverage, and business services sectors.