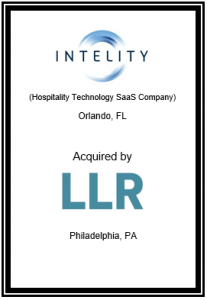 New York, NY – January 28th, 2019 – Aleutian Capital Group ("Aleutian Capital") is pleased to announce a successful investment by LLR Partners Inc into Intelity Solutions, Inc. ("Intelity" or the "Company"). Aleutian Capital acted as the exclusive sell-side advisor to Intelity, working closely with the shareholders and the management team during the sale process. The process included providing M&A advisory expertise, preparing marketing materials, contacting and coordinating with buyers, managing due diligence, and assisting in the final negotiation phases of the transaction.
About Intelity Solutions
Founded in 2007, Intelity is a global provider of the most advanced hospitality technology platform for the hotel, casino, cruise, and luxury residential markets. Headquartered in Orlando, Florida, Intelity offers its customers comprehensive end-to-end solutions to manage guest experience and staff operations, in a single platform. To learn more, visit www.intelity.com.
About LLR Partners
LLR Partners is a private equity firm committed to creating long-term value by growing its portfolio companies. LLR invests in several industries, with a focus on technology and services businesses. Founded in 1999 and with more than $3.5 billion raised across five funds, LLR is a flexible provider of capital for growth, recapitalizations, and buyouts.