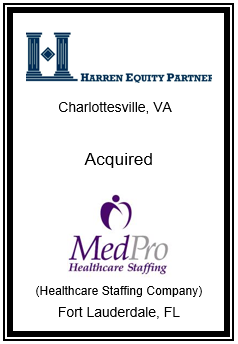 New York, NY – November 30th, 2016 – Aleutian Capital Group is pleased to announce the successful acquisition of Management Health Systems, Inc. by Harren Equity Partners. Aleutian originated the opportunity. Terms of the transaction were not publicly disclosed.
Founded in 1983, Management Health Systems provides healthcare travel and contract staffing services. Customer base includes hospitals, outpatient centers, government entities, skilled nursing, and rehabilitation facilities. Management Health Systems has been a leader in providing talented professionals for high-quality healthcare facilities and has experienced continuous growth the last several years. The company is headquartered in Fort Lauderdale, Florida.
Harren Equity Partners, a Charlottesville, VA-based investment group, mainly focuses on profitable middle market companies across a wide range of industries, including healthcare services, business services, consumer products, energy services, industrial, manufacturing and distribution.