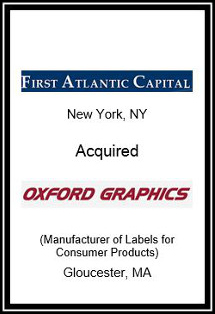 New York, NY – March 5th, 2014 – Aleutian Capital Group is pleased to announce the successful acquisition of Oxford Graphics, Inc. by First Atlantic Capital. Aleutian originated the opportunity and provided advisory services on the transaction. Terms of the transaction were not publically disclosed.
Founded in 1989, Oxford Graphics specializes in the flexographic and digital printing of labels for consumer goods. Customer base includes companies in the industrial, marine, and food & beverage packaging industries. Oxford Graphics has been a leader in providing high quality digital labels and has experienced continuous growth throughout the last several years. The company is headquartered in Gloucester, Massachusetts.
First Atlantic Capital, a New York-based investment group, mainly focuses on middle-market companies across a wide range of industries, including plastics and packaging, branded foods, food processing, industrial and consumer goods, and business services.