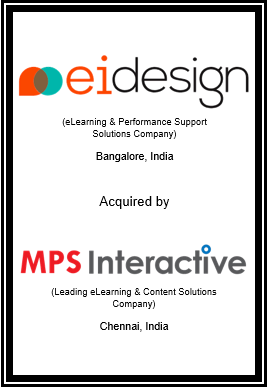 New York, NY – June 1st, 2022 – Aleutian Capital Group ("Aleutian Capital"), a division of Bradley Woods & Co. Ltd., is pleased to announce the successful acquisition of E.I. Design Private Limited ("E.I. Design") by MPS Interactive Systems Limited ("MPS Interactive"). Principals of Aleutian Capital acted as the exclusive sell-side advisors to E.I. Design throughout the entire transaction process. The process included providing M&A advisory expertise, preparing marketing materials, contacting and coordinating with buyers, managing due diligence, and assisting in the negotiation phases of the transaction. Through the acquisition of E.I. Design, MPS Interactive expands their eLearning platform and content creation abilities, market share, and geographical outreach.
About E.I. Design
E.I. Design is an eLearning and performance support solutions company providing customized education experiences to corporate and higher education professionals. E.I. Design offers training delivery, immersive and continuous learning experiences, learning technologies, and training strategies to both medium and large enterprises globally. The company is headquartered in Bangalore, India. For more information, please visit www.eidesign.net.
Asha Pandey, Founder and Chief Learning Strategist of E.I. Design, commented "Aleutian Capital played a critical role in the successful sale of our business to a key industry player – MPS Interactive. The Aleutian team's knowledge of both the eLearning industry and cross border transactions made them a valuable advisor throughout the entire process.".
About MPS Interactive
Founded in 1990, MPSi was a part of one of India's largest conglomerates, which is valued today at more than USD 250 Billion. To further its growth as a global leader in learning, MPS Limited acquired MPSi in 2018. MPS Interactive Systems Limited was the first eLearning company to be assessed at Level 5 (highest level) of SEI-CMM. MPSi has consistently been ranked among Training Industry's Top 20 Content Development Companies, Top 20 Training Outsourcing Companies, Top 20 Gamification Companies, and Top 20 Experiential Learning Technologies Companies. MPS was established as a subsidiary of Macmillan Limited in 1970 to change how the world learns. After a change of ownership in 2012, MPS developed significant momentum because of consistent reinvestment in the business and considerable diversification.
About Aleutian Capital Group
Aleutian Capital Group is a New York-based M&A advisory firm serving sellers and buyers of companies throughout North and South America, Asia and Europe. Aleutian provides particular expertise in the technology, e-commerce, healthcare, aerospace, consumer, transportation, professional services and industrial manufacturing industries. Our banking practice, through our broker-dealer partner Bradley Woods & Co. Ltd. (Member FINRA/SIPC), provides mergers and acquisitions advisory, capital raises, valuations and recapitalizations. All securities are offered through Bradley Woods & Co. Ltd., member, FINRA and SIPC. Aleutian Capital Group is a division of Bradley Woods & Co. Ltd., member, FINRA and SIPC. For more information please visit: www.aleutiancapital.com.