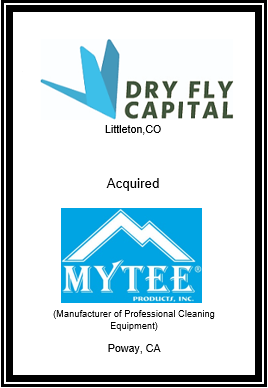 New York, NY – October 29th, 2020 – Aleutian Capital Group ("Aleutian Capital"), a New York-based middle-market investment bank, is pleased to announce the successful acquisition of Mytee Products, Inc by Dry Fly Capital LLC. Aleutian originated the opportunity. Terms of the transaction were not publicly disclosed.
About Mytee Products
Founded in 1994, Mytee Products, Inc. is a manufacturer and distributor of professional cleaning equipment based in Poway, CA. Their products are distributed domestically and internationally, and include steamers, extractors, and floor machines, among others. To learn more about Mytee Products, visit www.mytee.com.
About Dry Fly Capital
Dry Fly Capital LLC, a Littleton, CO-based private equity group, specializes in the lower middle market and focuses on investing in the distribution, wholesale, manufacturing, and service sectors. They provide digital marketing, business development strategies, and automation of operational activities through the use of technology to significantly enhance the long-term value of their investments. For more information, please go to www.dryflycap.com.