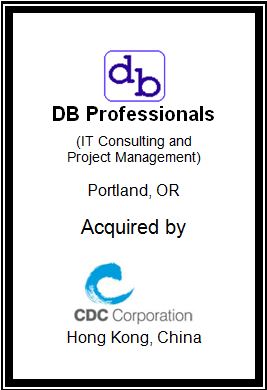 New York, NY – July 19th, 2006 – Aleutian Capital Group is pleased to announce the successful acquisition of DB Professionals, an IT Consulting and Project Management company, by CDC Corporation, a software corporation. Aleutian served as the exclusive sell-side M&A advisor to DB Professionals. Terms of the transaction were not disclosed.
CDC Software Corporation is a provider of Enterprise resource planning Tier III software, which caters to small to mid-sized businesses and allows interaction and uniformity among different departments, such as sales, human resources, and logistics.
DB Professionals was founded in 1996. The company provides expertise in database, ERP, network, storage and operating system technologies. They deliver its services throughout-tasking which is a rapidly growing cost saving alternative to all or nothing out-sourcing. DB Professionals are certified partners of Microsoft, Oracle and the MySQL Network.
Aleutian Capital Group is an experienced boutique investment-banking firm, which provides advisory services to companies looking to sell or raise capital and executives wishing to execute a management buyout.