Further M&A Advisory Success for Aleutian Capital in the Middle-Market Food Industry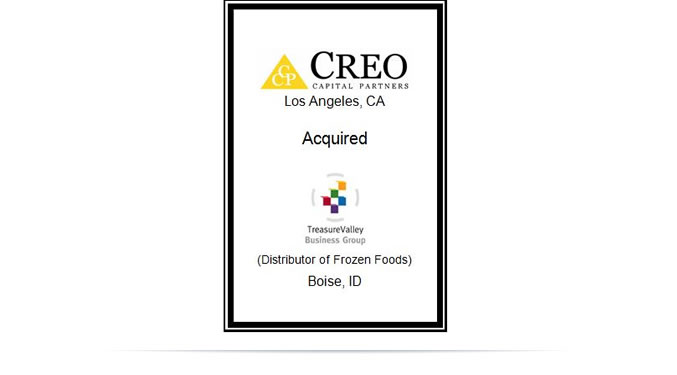 New York, NY – January 16th, 2008 – Aleutian Capital Group is pleased to announce the successful acquisition of Treasure Valley Business Group, Inc. by CREO Capital Partners, LLC. Aleutian originated the opportunity and provided acquisition advisory services to CREO Capital. Terms of the transaction were not disclosed.
Treasure Valley Business Group markets and distributes over 150 frozen and dry food products, particularly potato products, under the company's trademarked brand. In addition, the company offers frozen food packaging, inventory management, freight logistics consulting, and private label services. Typical clients include grocery stores, retail outlets, food service distributors, and food manufacturers. Headquartered in Boise, Idaho, Treasure Valley ships its products directly to its customers.
CREO Capital Partners, LLC, founded in 2005, is a private equity firm based in Los Angeles, California. The firm currently manages $100 million and seeks to make control investments in middle-market companies in the food, food logistics, and financial services sectors. Its current portfolio holdings include OhBoy!, a branded frozen entrees and snack food distributor and Good Harbor Fillet, a frozen seafood products manufacturer and distributor.