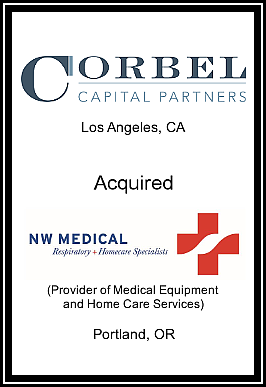 New York, NY – April 18th, 2018 – Aleutian Capital Group ("Aleutian Capital"), a New York-based middle-market investment bank, is pleased to announce the successful acquisition of Northwest Medical, Inc. by Corbel Structured Equity Partners. Aleutian originated the opportunity. Terms of the transaction were not publicly disclosed.
About Northwest Medical, Inc.
Founded in 1983, Northwest Medical, Inc. is a Portland, OR based provider of medical equipment and home care services. The company specializes in respiratory services for both the adult and pediatric demographics. Products offered include nebulizers, ventilators, filters and masks.
About Corbel Structured Equity Partners
Corbel Structured Equity Partners is a Los Angeles, CA based private equity firm that partners with entrepreneurial owners and family owned companies. The firm prefers to invest in minority stake partnerships in the consumer products and retail, specialty manufacturing, business services, and consumer services sectors, among others.