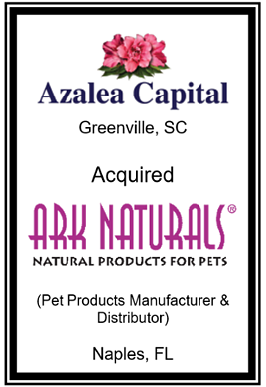 New York, NY – November 9th, 2017 – Aleutian Capital Group ("Aleutian Capital") is pleased to announce the successful acquisition of Gulf Coast Nutritionals, Inc. dba Ark Naturals by Azalea Capital, LLC. Aleutian originated the opportunity. Terms of the transaction were not publicly disclosed.
About Ark Naturals
Ark was founded in 1996 by Jay and Susan Weiss and was an early pioneer in the natural pet health category. Ark markets a full line of remedy, health and lifestyle products for dogs and cats under the Ark Naturals and Gray Muzzle Brands. All products are manufactured in the USA in FDA OTC facilities and / or USDA APFIS facilities.
About Azalea Capital, LLC
Azalea Capital partners with entrepreneurs, management teams, and family-owned companies with revenues of at least $10 million. They provide growth capital, operating expertise, and industry experience to significantly enhance the long-term value of their investments.