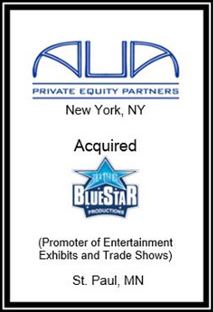 New York, NY – June 15th, 2014 – Aleutian Capital Group is pleased to announce the successful acquisition of Blue Star Productions by AUA Private Equity Partners, LLC. Aleutian originated the opportunity and provided advisory services on the transaction. Terms of the transaction were not publically disclosed.
Blue Star Productions specializes in the promotion and operation of entertainment exhibits and travelling trade shows throughout the United States. Current shows include a golf industry wholesaler & retailer trade show and a self-guided prehistoric animal exhibit. Blue Star is an up-and-coming leader in the traveling exhibit industry and has experienced continuous rapid growth throughout the last several years. The company is headquartered in St. Paul, Minnesota.
AUA Private Equity Partners, a New York-based investment group, focuses on Hispanic-oriented and family-owned businesses across a wide range of industries, including consumer, media, and business services. Managing Partner, Andy Unanue, was previously the Chief Operating Officer of Goya Foods, Inc., one of the largest Hispanic-owned food companies in the United States.