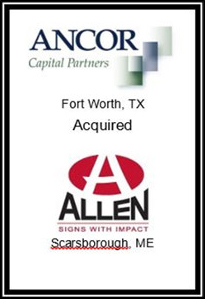 New York, NY – April 10th, 2015 – Aleutian Capital Group is pleased to announce the successful acquisition of Allen Screen Printing, Inc. by Ancor Capital Partners. Aleutian originated the opportunity and provided advisory services on the transaction. Terms of the transaction were not publicly disclosed.
Founded in 1965, Allen Screen Printing provides screen-printing, digital imaging (flat-bed printing, substrate configurations, etc.), dimensional signage fabrication & prototyping, finishing (precision die-cutting, banner finishing, CNC routing, etc.), and fulfillment/inventory management and shipping services. Customer base includes companies that are in the retail, grocery, and financial services industries. Allen Screen Printing has been a leader in providing sign fabrication and digital printing services and has experienced continuous growth the last several years. The company is headquartered in Scarborough, Maine.
Ancor Capital Partners, a Texas-based investment group, mainly focuses on profitable middle market companies across most industries. Ancor has extensive experience in the healthcare, consumer staples, manufacturing, and distribution industries, and has completed 17 transactions in the healthcare industry, 8 transactions in the consumer staples industry, and 10 in the manufacturing and distribution industry.