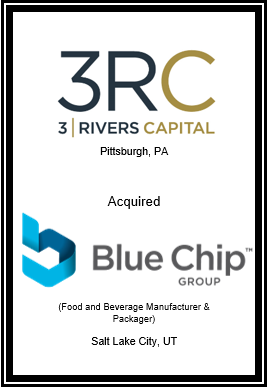 New York, NY – December 1st, 2021 – Aleutian Capital Group ("Aleutian Capital"), a New York-based middle-market investment bank, is pleased to announce the successful acquisition of Blue Chip Group, Inc. by 3 Rivers Capital LLC. Aleutian originated the opportunity. Terms of the transaction were not publicly disclosed.
About Blue Chip Group, Inc.
Founded in 1972, Blue Chip Group is a dry foods, beverage, and nutrition manufacturer and packager based in Salt Lake City, Utah. The company, along with their Augason Farms brand, is a trailblazing leader in the preparedness food industry. Blue Chip sources, formulates, produces, and distributes the most nutritious emergency foods on the market. Blue Chip Group is also a growing food and beverage contract manufacturer. To learn more about the Blue Chip Group, visit www.bluechipgroup.net.
About 3 Rivers Capital, LLC.
3 Rivers Capital, a Pittsburgh, PA-based private equity group, has built an expertise in acquiring family and entrepreneur-owned businesses that present a clear and compelling opportunity to create significant value. 3 Rivers Capital adds value through active ownership and supportive partnerships with highly motivated management teams. For more information, please go to www.3riverscap.com.